AGASI


Under the Skin
Coincidence and time are the main aspects of the installation 'Under the Skin', that I made for the exhibition 'Imagine Intuition'. I juxtapose different sides of my experience. On one side you can see my calm inner mind, on the other the turmoil caused by external influences. They meet in the middle, on a sculpturally shaped biocanvas, that I grew myself.

In response to my installation I made an animated short with the same title. You can see the trailer here.

Metropolis M, Dec 13th 2022:
'De installatie Under the skin van Jos Agasi gaat gepaard met een bonkende hartslag. Organisch ogende vellen dienen als kleine tv-schermen: er wordt een schouwspel van krioelende lijnen en dansende stippen op geprojecteerd. Achteraf lees ik dat de canvasvellen uit cellulose bestaan, gevormd tijdens fermentatie van thee en suiker met behulp van bacteriën, gekweekt door de kunstenaar zelf. Even fantaseer ik of dit de toekomst van videokunst is: bioscopen vol zelfgekweekte ondergronden met asynchrone projecties erop. Ik kijk ernaar uit.'


Imagine Intuition
Museum De Lakenhal has commissioned seven contemporary artists to create a new work for this exhibition about intuition, the unique knowledge that plays an intriguing role in both art and science. The work I created for the exhibition is called 'Under the skin'. Coincidence and time are the main aspects of the installation. I juxtapose different sides of my life experience. On one side you can see and hear my calm inner side, on the other the turmoil caused by external influences. They meet in the middle, on a sculpturally shaped biocanvas I grew during the past months.

More information and tickets here.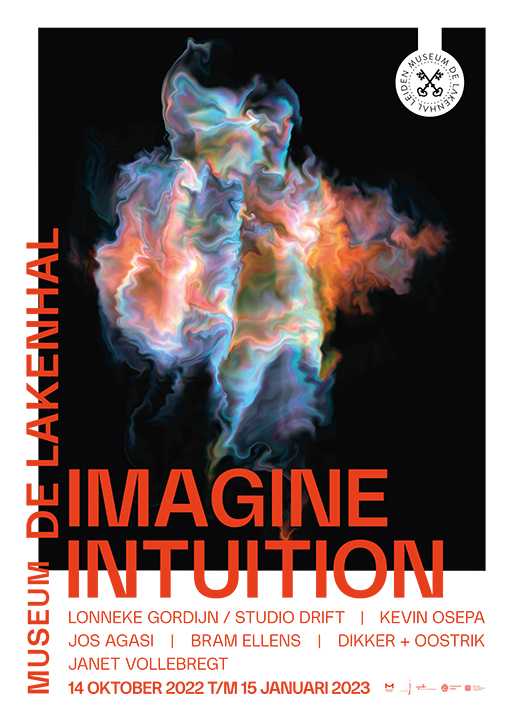 Zeemoed
Scenography, video and audio design for a short theatrical performance for Schemerstad Festival, together with writer Anika van de Wijngaard and actor Karlijn Hamer.


Mirror House
In my installation 'Mirror House' you encounter yourself and your mirrored doppelganger. Your mirror image becomes part of the symmetrical architecture of the 'Regulateurshuis' of the former gas factory.

A video we made in front of Mirror House can be seen here.

Part of 'Through the Looking Glass 2022', Leiden Art Hub, Jan-Feb 2022.


Framework – Old glass. New Light.
Old glass windows found in the historical gas factory in Leiden are exposed to new lights. They transform and simultaneously the glass alters the light. This interaction between light and glass can incite our curiosity about the impact of light and the canvas it reflects on.
Light is looking back at me
As a child, I was fascinated by the light that presented itself through the windows in my room. Whether it was the warm light of the sun during the day or that from the cold moon at night, it sparked my imagination and it gave me the feeling that the light was looking back at me. With Framework, I want to experience this again and share the feeling with others. I never lost my fascination for light. On the contrary, my work now revolves around light and how it can alter spaces.
I would like to thank the municipality of Leiden, culture department, for making this artwork and the 'Mirror House' possible.
Part of 'Through the Looking Glass 2022', Leiden Art Hub, Jan-Feb 2022.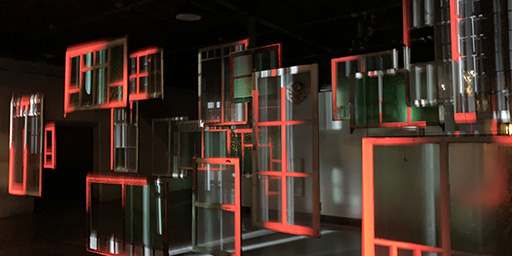 Book now!
With my art installation 'Book now!' I question the behavior of travellers. When we go around the Mediterranean with our suitcases, do we also think about the people who have to cross the same sea to get themselves to safety? I would like to encourage you and myself to make better choices. The artwork was supposed to be on display at the 'Nacht van Ontdekkingen' in the Hooglandse Kerk in Leiden, November 2021. Covid measurements sadly prevented the event from happening.


Open Studio 2021 - Kunstroute Leiden
Presenting two new video installations, made with light, air and a type case.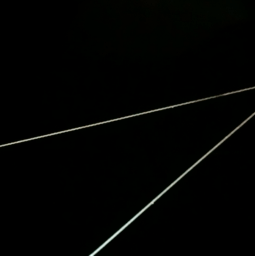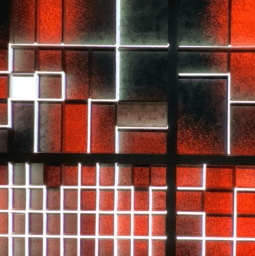 Panacea. The cure for all ailments.
An abstract animated short, made for project Through the Looking Glass, curated by EST Art Foundation, 2021. A recording of the movie in the space it was created for can be seen here.
Black. Hack. The Wall.
Two video sculptures in gallery MS10. 2020. Watch the video.
OP TOUW
Audiovisual installation in Gallery Old School in Leiden, 2020. See the video.
'Museum worthy.'
'Very evocative and soothing to experience!'
'Fascinating – almost magical.'
'We witnessed crackling beauty.'
PUNT.
Audiovisual installation in Gallery Old School in Leiden, 2019. See interview by Cultuurfonds Leiden on LeidsCement.
'Calming. Almost psychedelic. Love.'
'No gravity for a while, woohoo!'
'Dazzling.'
'We all need a space like this at home.'
Overvloed / Abundance
The surf on the black beach of Reynisdrangar, Iceland on Thursday May 16th 2019, between 10:47 and 10:56. Suds.
Video installation in collaboration with Old School (Gideon Roggeveen & Roos-Marijn Kinkel), 2019. Tip: watch until the end.


ABOUT MY WORK
My works and installations leave a lot of room for interpretation. My subjects are mainly based on my own observations and how they manifest themselves as images in my head, like dreaming with eyes open. Intuitively I set the images in motion, adding a time component. Placed in spaces, that are transformed by them, my artworks offer an (audio)visual experience. With my fascination for light, I investigate how it changes the canvas on which it falls, but also how the material determines in what way the light is displayed.
On instagram and facebook you can find recent images of my work. Also check blauweuur.nl, the former collective I was in with two fellow artists, to see some of the audiovisual projects I was involved in before.
Apart from being a visual artist I worked as a graphic designer for over 20 years and as a motion designer for over 12 years. You can call me for concepts, ideas and art creation. Motion design, video art and graphic design is what I do. I create images. A lot. Sometimes one at a time. For you. Other times I make 30 images or more. Per second. And I direct them to move. I work together with professionals in the field of art, design, video mapping, music creation, theatre, among others, to realize small and bigger projects and experiences. Let's meet and have good coffee: jos@agasi.nl or +31 6 4480 2324.


'She calls me the View-Master'
INSTAGRAM