S T U D I O A G A S I


• Mirror House
In my second installation 'Mirror House' you encounter yourself and your mirrored doppelganger. Your mirror image becomes part of the symmetrical architecture of the 'Regulateurshuis' of the former gas factory.

We made a video in front of Mirror House. Martin M Aart de Jong wrote two poems about light for this occasion. See the video here.

Part of 'Through the Looking Glass 2022', Leiden Art Hub, Jan-Feb 2022


• Framework – Old glass. New Light.
Old glass windows found in the historical gas factory in Leiden are exposed to new lights. They transform and simultaneously the glass alters the light. This interaction between light and glass can incite our curiosity about the impact of light and the canvas it reflects on.
Light is looking back at me
As a child, I was fascinated by the light that presented itself through the windows in my room. Whether it was the warm light of the sun during the day or that from the cold moon at night, it sparked my imagination and it gave me the feeling that the light was looking back at me. With Framework, I want to experience this again and share the feeling with others. I never lost my fascination for light. On the contrary, my work now revolves around light and how it can alter spaces.
I would like to thank the municipality of Leiden, culture department, for making this artwork possible. I will also present a second work of art that they support at Leiden Art Hub later in January 2022.
In these uncertain times, when nature forces us all to take responsibility and keep our distance, often even with walls and windows between us, this work can now only be experienced by looking at it through the windows of the Leiden Art Hub. Hopefully we can go back into the building together soon to experience the work up close.
Part of 'Through the Looking Glass 2022', Leiden Art Hub, Jan-Feb 2022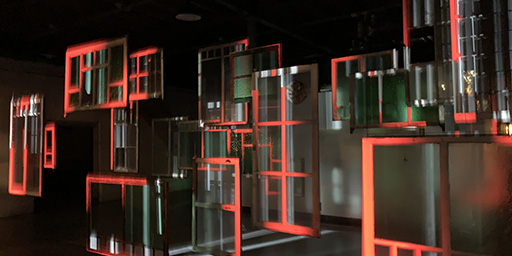 • Book now!
With my new art installation 'Book now!' I question the behavior of travellers. When we go around the Mediterranean with our suitcases, do we also think about the people who have to cross the same sea to get themselves to safety? I would like to encourage you and myself to make better choices. The artwork was supposed to be on display at the 'Nacht van Ontdekkingen' in Leiden, November 2021. Covid measurements prevented the event from happening. The event will now take place in the second half of 2022.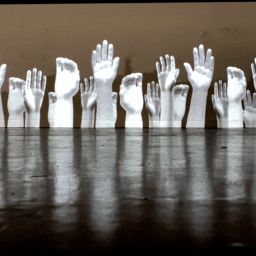 • Open Studio 2021 - Kunstroute Leiden
Presenting two new video installations, made with light, air and a type case.


• 'Panacea. The cure for all ailments'.
An abstract animated short, made for project Through the Looking Glass, curated by EST Art Foundation, 2021. A recording of the movie in the space it was created for can be seen here.
• 'Black. Hack. The Wall.'
Two video sculptures in gallery MS10. 2020. Watch the video.
• 'OP TOUW'
Audiovisual installation in Gallery Old School in Leiden, 2020. See the video.
• 'PUNT.'
Audiovisual installation in Gallery Old School in Leiden, 2019. See interview by Cultuurfonds Leiden on LeidsCement.
• 'Overvloed / Abundance' The surf on the black beach of Reynisdrangar near Vik in Iceland on Thursday May 16th, 2019, between 10.47 and 10.56 a.m.. Suds.
Video installation in collaboration with Old School (Gideon Roggeveen & Roos-Marijn Kinkel), 2019. Tip: watch until the end.


As an independent artist I create works and installations that are mostly abstract, with a lot of room for interpretation. My most important subject is light and how it acts in its particular ways. By setting it in motion, it creates new forms and it changes the canvas it hits. In that light I paste the images I dream, trying to visualize the journeys I undertake in my mind.
On instagram and facebook you can find recent images of my work. Also check blauweuur.nl, the former artist collective I had with two fellow artists, to see some of the audiovisual projects I was involved in before.
Apart from trying to create art I work as a graphic designer for over 20 years and as a motion designer for over 10 years. I'm a one man studio that you can call for concepts, ideas and art creation. Motion design, video art and graphic design is what I do. I create images. A lot. Sometimes one at a time. For you. Other times I make 30 images or more. Per second. And I direct them to move. I work together with professionals in the field of art, design, video mapping, music creation, among others, to realize small and bigger projects and experiences. My style? I don't do style. You want me to make YOUR style! Let's meet and have good coffee: jos@agasi.nl or +31 6 4480 2324.


'She calls me the View-Master'
INSTAGRAM